Children's Class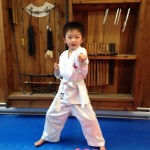 Our children's classes emphasize the values of discipline and respect – fundamentals to Karate-do.
We consider the development of these qualities more important than learning martial arts techniques or winning in competition.
Kids benefit greatly from Karate training. They discover confidence, self discipline and self respect which will assist them in school and later on in life.
Our club's atmosphere is serious yet gentle as experienced, certified instructors lead every class.