Dojo History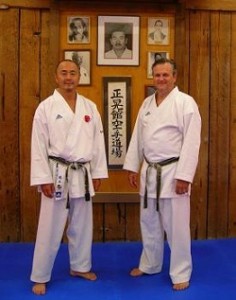 Kingsway Shito-ryu Odokan practices traditional Shito-ryu Karate-do founded by Kenwa Mabuni (1887-1952). Shihan Kaz Hashimoto is a direct student of both Master Ryusho Sakagami and Seiko Suzuki. Kaz Hashimoto was also the top karate athlete in Japan. The club originally practiced the Itosukai style of Shito-ryu until the death of Ryusho Sakagami in 1993. In 1994 the dojo followed Master Seiko Suzuki when he established Shito-ryu Seiko-kai as an independent karate association. In 2004 the club became an independent, unaffiliated Shito-ryu dojo known as "Odokan" (translation: Kingsway Dojo).
In April 2017, Odokan became the Canadian Honbu Dojo for Seikokai Suzuki-ha Shito-ryu.
Kaz Hashimoto and Mark Stacey have been the instructors of Kingsway Shito-ryu since it began in 1987. Both are experienced competitors and have represented Canada as National Team competitors and coaches. Kaz Hashimoto in particular is recognized as one of the best karate athletes to ever represent Canada, and continues to hold Canadian medal records for his national and international competitive achievements.
The experience of the two founders of the dojo has led to the development of an intensive and focused training program. The karate-ka from Kingsway Shito-ryu boast an outstanding competitive record in provincial, national, and international karate competition. The students who have excelled in national competition include Howard Chang, Alex Camarda, Peter Gonsales, Chris Sullivan, Welton Vo, Tracy Vo and Rita Ngo- they have established their own standards of success as Canadian National Champoins.
Many of the dojo's members began training in our junior class, which offers kids under 14 a challenging yet fun forum. Parents often remark about how traditional karate training enhances their children's self-esteem and assists them to excel in other endeavors.
Although the emphasis in the dojo is focused on intensive traditional karate training, the activities of the Kingsway club have also always included regular social events such as demonstrations, parties, and group tours.